Trading Journal #11
08:39 am: Futures red to start the week, giving a nice follow through continuation to Friday reversal sell and engulfing down day. Shorts should be trimming gains and adjusting stops to cap profits on the way.
08:40 am: Morning focus on tech stocks gapping down this morning to see if they are able to have an oversold bounce to fill morning gaps. AAPL AMZN GOOGL and NVDA still have gaps to fill at lower prices but also oversold with this morning gap down, so looking for possible gap fillings today. AMD has a product event today, so also on watch.
Morning Trades: I started the day looking for the oversold bounce I talked about premarket, so I took AAPL Calls out of the gate for nice cash flow. Tried to fade TSLA and MSFT but got chopped so close. After the bounce I took IWM Puts for the fade and those also gave nice cash flow. Overall slow and choppy intraday action but nice cash flow following morning plan on the oversold bounce and fade after that.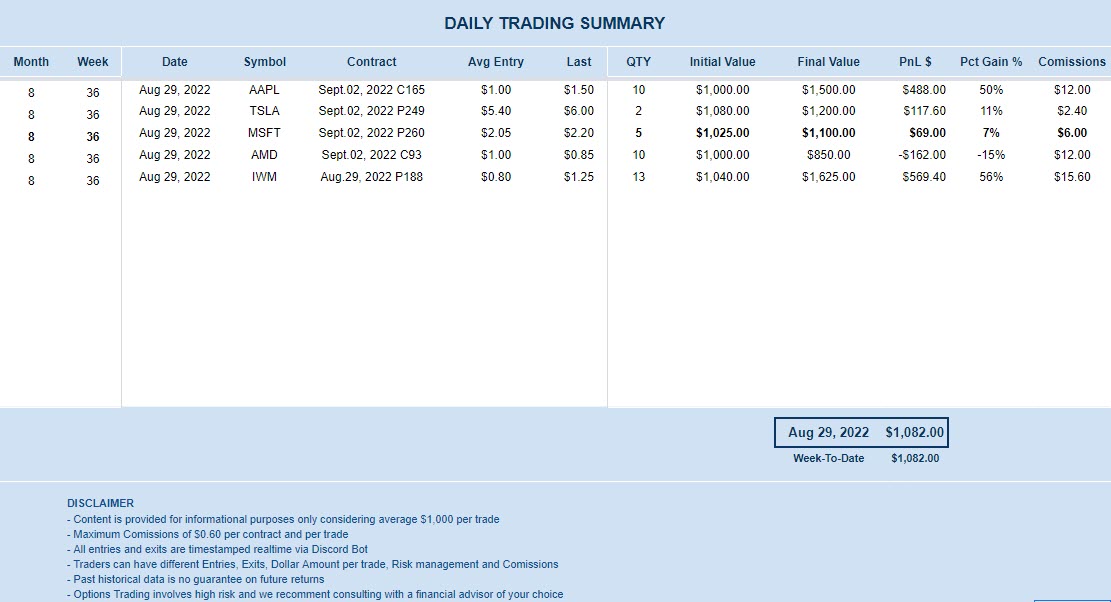 Losses review:  I got stopped on AMD Calls for the bounce but that's ok as part of risk management. Stops are there for a reason: to protect our account, so took the loss and moved into IWM short that made be all money back and more.
Key Takeaways: When stocks gap down, we look for the first 5-15min to see if it puts a low and bounce to fill the morning gap or not. Today, a perfect oversold bounce to fill the gap but after gaps filling, stocks should resume main trend and following Friday breakdown, its bearish for now.
Look Ahead: Friday breakdown made some damage on pushing into bear case and stocks below 8/21MA. So the longer we stay below 8/21MA, higher the chance we see lower prices, but as the market is oversold, we can pause or bounce up to clear oversold conditions, so manage risk wisely.