Trading Journal #10
Trading Journal
08:51 am: Futures slightly red premarket ahead Powell speech. Everyone waiting for 10am to hear more on whats next move from FED, so staying open minded for any possible scenario. PCE came slightly below expectations so let's see if that is incorporated in Powell speech or not.
08:52 am: Morning focus on Tech stocks as they keep showing some relative strength. Semis had a powerful move yesterday so let's see if it continues today or not. Focus on AAPL AMZN GOOGL MSFT QQQ SPY as they still have gaps to fill at higher prices but needs above yesterday highs.
Morning Trades: I started the day with some TSLA Calls for a possible move into 300+ following my yesterday Calls, but the momentum stalled so I had to take it off. I saw META rejected near 171 and it was on day 3 of a big bounce up, so I basically shorted META with some Puts that gave very nice cash flow. Before Powell spoke I kept fighting with TSLA and got pretty much chopped and got stopped several times, but stops are there for a reason so I took the loss and moved on. After Powell spoke and the first spike went down, I took some IWM Calls for a possible squeeze and those were up 70% in a blink so I took the gains. When I saw that IWM was showing a bearish divergence vs SPY QQQ, I looked back into TSLA and saw some bear flow at 295 and 290, so I took TSLA PUTs and pressed it hard for a possible fade and green to red move. Was a beauty… rollover and I closed those Puts at $3 from $0.6+ (they hit $5+ but who cares…happy with gains)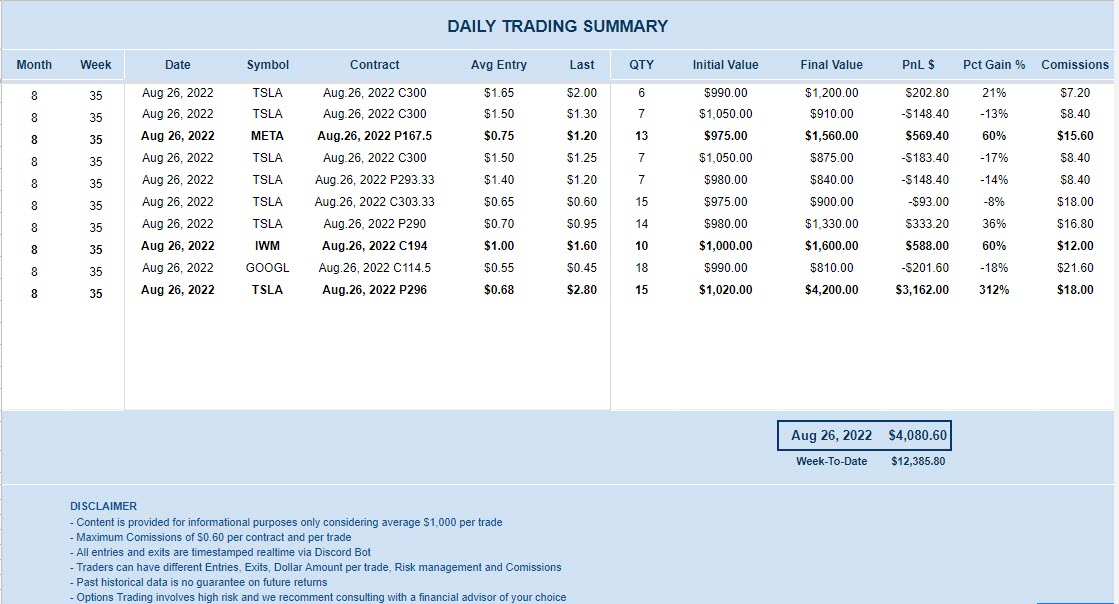 Losses review:  I got a bit stubborn with TSLA and got chopped before Powell speaking and took unnecessary losses, but that's part of the mental game but while I keep my risk management in place, stops get hit and I move for the next trade, so I'm good with that! TSLA actually gave back all the money from stops and way more as made more than +300% gains.
Key Takeaways: First, when we have FED speakers, do nothing while they dont speak!! Sit on hands! After they speak, algos will be all over the place basically riding up and down in a few seconds, which makes things very hard… let dust settle down and then you hit the trigger for the final move (in today's case, it was down).
Look Ahead: Powell basically killed the momentum today, and SPY + QQQ made new highs and new lows of the week in 60min today, so just to see how sick today was. Trying to anticipate what's next move, honestly I don't have a crystal ball as no one has, although some "gurus" try to say this and that, no one really knows 100% sure what will happen next month, next quarter or next year, so it's worthless lose time with that, in my opinion. I trade prices, so I really don't care what's next. Traders, trade, so staying open minded for whatever next week brings us. I am all cash into the weekend and next week will stay open minded for what the market can give us! Have a great weekend everyone!
DISCLAIMER
This trading journal is a log of all the options trades made. It is a tool that I use to track my progress and improve my trading strategies over time. I use this information to analyze my trading performance, identify patterns, and improve my decision-making processes. By keeping a trading journal, I can learn from my successes and mistakes, and make better trading decisions in the future. You can use other tools for journal as TraderSync , Tradervue or Excel
Content is provided for informational purposes only considering average $1,000 per trade. Comissions already included: $0.60 per contract, per trade. All entries and exits are timestamped realtime via Discord Bot. Traders can have different Entries, Exits, Dollar Amount, Risk management and Comissions.
You can find all my journals on Blog. Past historical data is no guarantee on future returns