Trading Journal #56
Trading Journal
08:35 am: "Futures spiked down following job numbers but bounced back to green. Very volatile action and we have CPI numbers next week, so manage risk wisely.
08:36 am: "Morning focus on AAPL AMD TSLA SPY IWM QQQ to see if it holds green and squeezes higher OR fades green to red. Manage risk wisely
Morning Trades: I started the day long AAPL calls trying to fill the gap higher, but after getting rejected higher, I closed avoiding a big loss. I immediately flipped short TSLA and IWM and locked TSLA Puts +150% gains and IWM Puts +90% gains. As the market was holding the lows, I bought the dip on NFLX Calls locked +280% gains and done for the day.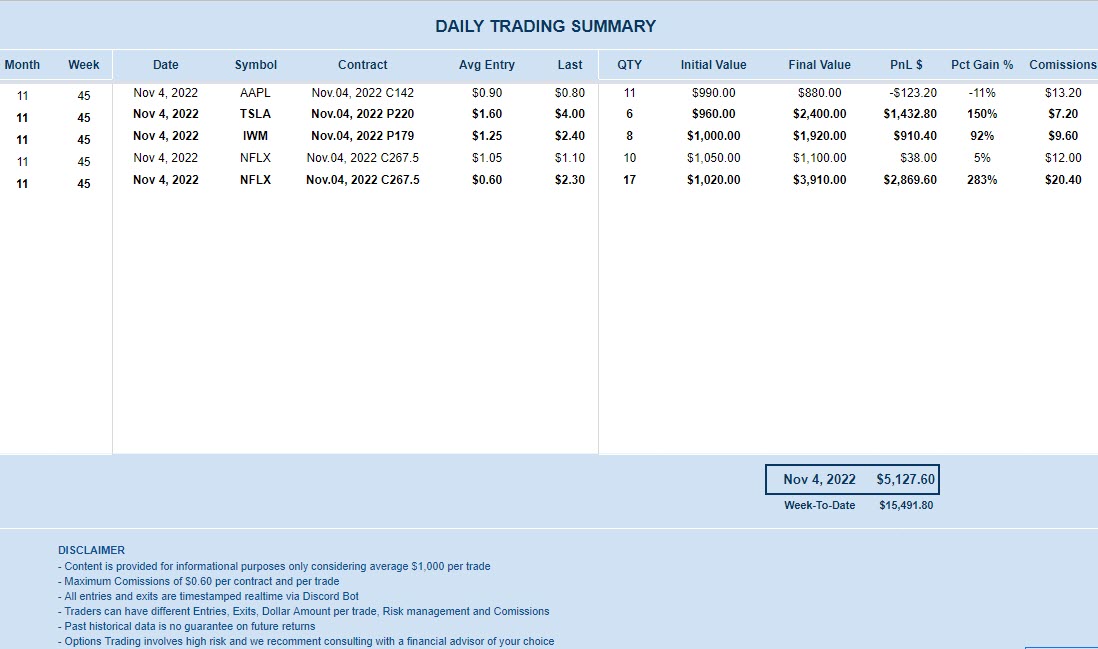 Loss review: I was able to avoid a big loss on AAPL as market rejected upside, so I closed longs fast and moved fast into shorts, so I'm happy with my risk management.
Key Takeaways: This is a trading market and don't forget that we are still inside a bear market, so keep taking trades and don't hold the bags (both longs or shorts) for too long. Manage risk wisely!
Look Ahead: Still a lot of economic data to come and next week we have CPI numbers that can trigger the next move, so stay flexible with an open mind and take trades.
DISCLAIMER
This trading journal is a log of all the options trades made. It is a tool that I use to track my progress and improve my trading strategies over time. I use this information to analyze my trading performance, identify patterns, and improve my decision-making processes. By keeping a trading journal, I can learn from my successes and mistakes, and make better trading decisions in the future. You can use other tools for journal as TraderSync , Tradervue or Excel
Content is provided for informational purposes only considering average $1,000 per trade. Comissions already included: $0.60 per contract, per trade. All entries and exits are timestamped realtime via Discord Bot. Traders can have different Entries, Exits, Dollar Amount, Risk management and Comissions.
You can find all my journals on Blog. Past historical data is no guarantee on future returns