Trading Journal #8
Trading Journal
08:40 am: Futures are basically flat-to-green to start the day as we hit oversold conditions on Monday and now the market is clearing those oversold readings. A bounce would be healthy but everyone is waiting on Mr. Powell's speech at Jackson Hole at the end of week, so less is more for now.
08:39 am: Morning focus on energy names as they continue ripping up with our Monday XOM Calls 95 dip ITM now as its above 98+. Yesterday, TLT gave a nice bounce but faded so keeping it on watch for signal if Tech bounce or breakdown for new weekly lows. TSLA also showed some relative strength so will use it for clues if tech bounces or breakdown.
Morning Trades: I started the day by shorting IWM to test the waters and see if breakdown below 190 but it didn't breakdown and TSLA was ripping up, so basically flipped my trades into IWM META AMD AMZN and AAPL Calls, that closed a bit too soon but made the cash flow for the day. AMD was a little bit trickier as I got stopped on initial trades, but I waited and got back into those AMD Calls for a red to green move. During lunch time I shorted IWM with some PUTs for additional cash flow.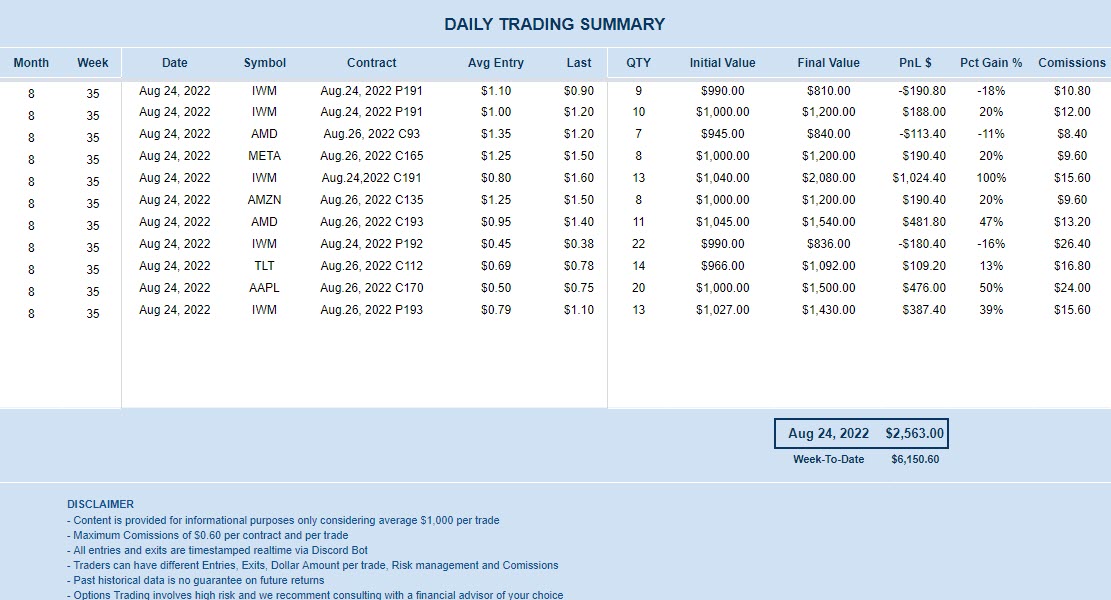 Losses review:  Today I got stopped on IWM short and AMD long as I got a bit too soon, but I tried to cut losses fast and wait for better entries. That worked well and got my money back.
Key Takeaways: Do not be "perma" anything (bear or bull)… Traders, trade so when traders see a stock as IWM not breaking down, traders just cut the short and reverse fast for Calls as I did on IWM AMD META AMZN for great cash flow.
Look Ahead: We got the oversold bounce that I mentioned yesterday and today, but overall market still waiting for Mr. Powell to trigger the next move after his speech on Jackson Hole, so until then, the market is choppy so better take trades for cash flow and go back to cash until we trigger the next move one way or the other.
DISCLAIMER
This trading journal is a log of all the options trades made. It is a tool that I use to track my progress and improve my trading strategies over time. I use this information to analyze my trading performance, identify patterns, and improve my decision-making processes. By keeping a trading journal, I can learn from my successes and mistakes, and make better trading decisions in the future. You can use other tools for journal as TraderSync , Tradervue or Excel
Content is provided for informational purposes only considering average $1,000 per trade. Comissions already included: $0.60 per contract, per trade. All entries and exits are timestamped realtime via Discord Bot. Traders can have different Entries, Exits, Dollar Amount, Risk management and Comissions.
You can find all my journals on Blog. Past historical data is no guarantee on future returns