Trading Journal #4
Trading Journal
Futures are green to start the day giving a nice oversold bounce vs yesterday lows when some names bounce vs EMA8. AAPL finally showing some relative weakness premarket and Semis also going on Day 3 pullback.
Morning Focus: I will be looking if they buy the pullback on AAPL or we go into the next biggest level at 170s. Semi's going on day 3 pullback so lets see if we can have an oversold bounce vs morning lows. We have mixed signals with many names bouncing and AAPL + Semis continue to show relative weakness, so either these names bounce up or the rest of stocks can go from green to red. Eyes on AAPL AMD NVDA for clues on what market can trigger next.
Our Trades: I started the morning right as planned, by looking at Semis and I pulled the trigger on NVDA Calls for a nice red to green move. Closed NVDA a bit too soon but happy with the gains. I also took a short on AAPL (yeah, I keep playing with fire, but those actually got paid nicely) and closed as no follow through for downside. I took GOOGL AMZN Calls for a red to green move and those gave nice cash flow. Just before leaving for lunch, I saw bear flow on MRNA and those PUTs more than doubled in a couple of minutes, so I didn't get greedy, took the gains and ran!!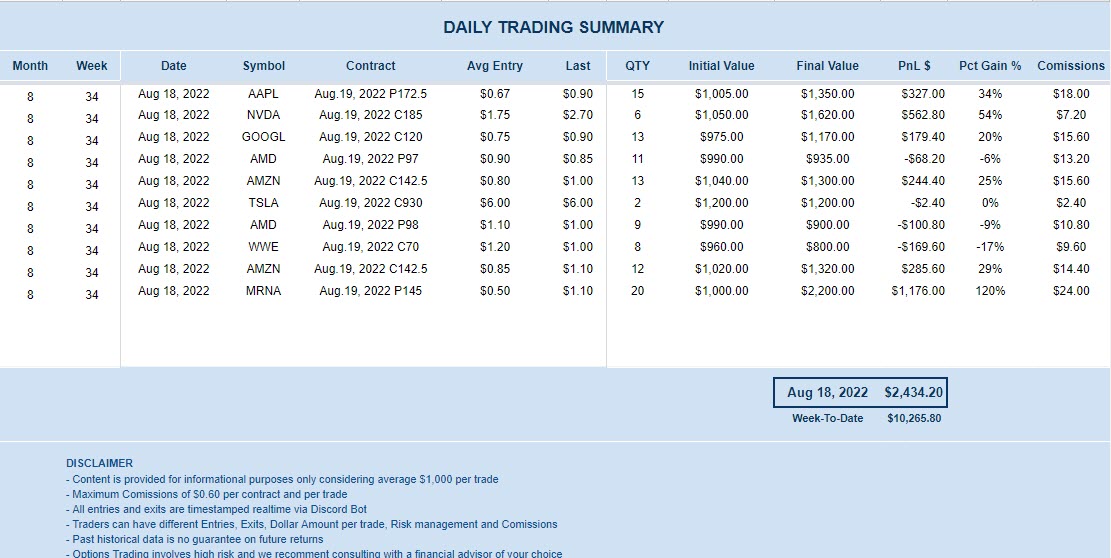 Losses review: I cut my losses fast but the biggest mistake was trying to fade AMD too soon.
Key Takeaways: Don't try to fight stocks when sectors have big momentum from the open.
Look Ahead: We had a nice oversold bounce today but SPY IWM QQQ AAPL TSLA and many other names are still printing inside days, so no real edge here and we are still overbought, so we can fade/pause some more time. We are still above 8/21 MA so keep the bull case intact for now, but tomorrow is the monthly options expiration and most of the long gamma will be gone. So I'm cautious going next week as it can get volatile in the next 2-4weeks, but let's see.
DISCLAIMER
This trading journal is a log of all the options trades made. It is a tool that I use to track my progress and improve my trading strategies over time. I use this information to analyze my trading performance, identify patterns, and improve my decision-making processes. By keeping a trading journal, I can learn from my successes and mistakes, and make better trading decisions in the future. You can use other tools for journal as TraderSync , Tradervue or Excel
Content is provided for informational purposes only considering average $1,000 per trade. Comissions already included: $0.60 per contract, per trade. All entries and exits are timestamped realtime via Discord Bot. Traders can have different Entries, Exits, Dollar Amount, Risk management and Comissions.
You can find all my journals on Blog. Past historical data is no guarantee on future returns