Trading Journal #5
Trading Journal
08:49am: Futures red to start the last day of the week and about $2 Trillion options will expire today so most of the long gamma will be gone. As I've been saying this week, looking for some volatility going forward. 
8:51am: Morning focus into SPY QQQ AAPL TSLA MSFT gapping down this morning, so after the market open will see if they can bounce to fill the morning gap or if they fade into new lows. SPY is right at 8MA so 424 level is a focus for now. Also watching AMD NVDA as yesterday had a relief bounce up so now on watch if sustains above premarket lows or breakdown and go below yesterday lows.
Our Trades: I started the day looking for bounces on AMD as yesterday was strong so I took calls and also AMZN calls as it was holding 140s, so it could try a move above 141+. Well, but it didn't, so I took gains fast and moved into AAPL GME shorts but they were messy and both shorts were stopped. I was basically back and forth with AMD AMZN calls… AMZN I was able to save it for some gains but AMD was my biggest loser on the day. Really wasn't expecting such a fade after yesterday's action, but it's part of the game!! I was red on the day until I shorted AMZN (finally) and GME short (again) and those helped me go back into the green, but it was tough!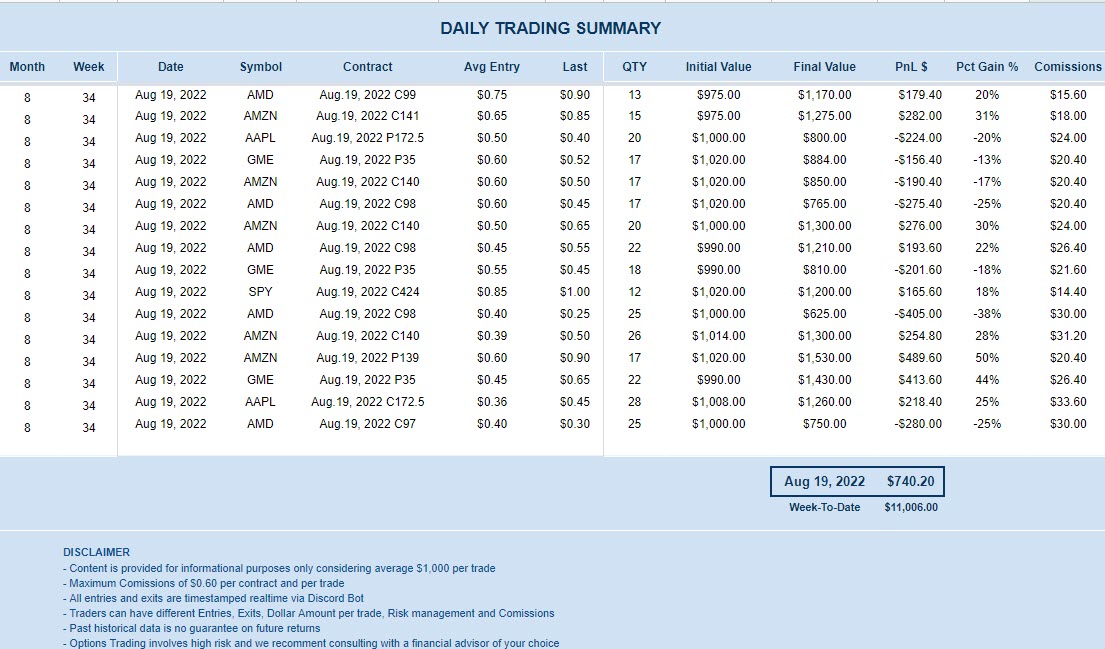 Losses review: I got small "paper cuts" in AAPL GME AMZN. Those are fine as part of trading, but the biggest loser was on AMD… Really caught me off guard as I was not expecting such a fade after yesterday, but it is what it is. Only happens on real trading!!
Key Takeaways: Do not try to catch a "falling knife" as AMD was today… can try 1-2x with a small position just to "test the waters" but if it does not go, just cut and leave it alone. Move into the next trade.
Look Ahead: SPY IWM QQQ AAPL gave the pullback that we were looking for, but I was not expecting such a fade on semi's, especially after yesterday's action. Today was tricky considering monthly options expiration so a lot is happening behind the scenes, but I will go into next week with an open mind for whatever comes.
DISCLAIMER
This trading journal is a log of all the options trades made. It is a tool that I use to track my progress and improve my trading strategies over time. I use this information to analyze my trading performance, identify patterns, and improve my decision-making processes. By keeping a trading journal, I can learn from my successes and mistakes, and make better trading decisions in the future. You can use other tools for journal as TraderSync , Tradervue or Excel
Content is provided for informational purposes only considering average $1,000 per trade. Comissions already included: $0.60 per contract, per trade. All entries and exits are timestamped realtime via Discord Bot. Traders can have different Entries, Exits, Dollar Amount, Risk management and Comissions.
You can find all my journals on Blog. Past historical data is no guarantee on future returns